Industry Snapshot:

DCG CEO Survey
The blockchain industry can be noisy and volatile, but behind the scenes, the space is steadily growing and maturing. DCG has now invested in 145 blockchain startups across more than 30 countries, giving us unparalleled insight into what is happening in the marketplace.
We polled our portfolio company founders and CEOs in order to provide this perspective to the world beyond DCG.
​
In our inaugural industry survey, we received responses from over 60 DCG portfolio company executives across two surveys: first, at the beginning of 2019, as the industry was in the pits of Crypto Winter, and second, halfway through the year after digital currency prices had recovered.
We gathered perspectives on a range of topics, trends, and developments, including regulation, use cases, talent, the state of the technology, and potential industry consolidation.
The regulatory landscape is clearly one of the most important issues facing the industry and executives expressed concern around the slow pace of advancement.
A quarter of respondents stated that compliance was their greatest challenge last year, and many companies expressed difficulty securing bank accounts and insurance. 31% of survey respondents named the lack of regulatory progress during 2019 as the most surprising development of the year.
In addition, 53% of survey respondents characterized the regulatory environment as "public enemy #1," compared to other threats, including a possible economic downturn and cybersecurity/hacking risk. Regulatory rules that could constrict the growth of digital currencies are a much bigger concern to industry leaders ⁠— and things could get worse as global policymakers call for increased oversight in the wake of Facebook's Libra announcement.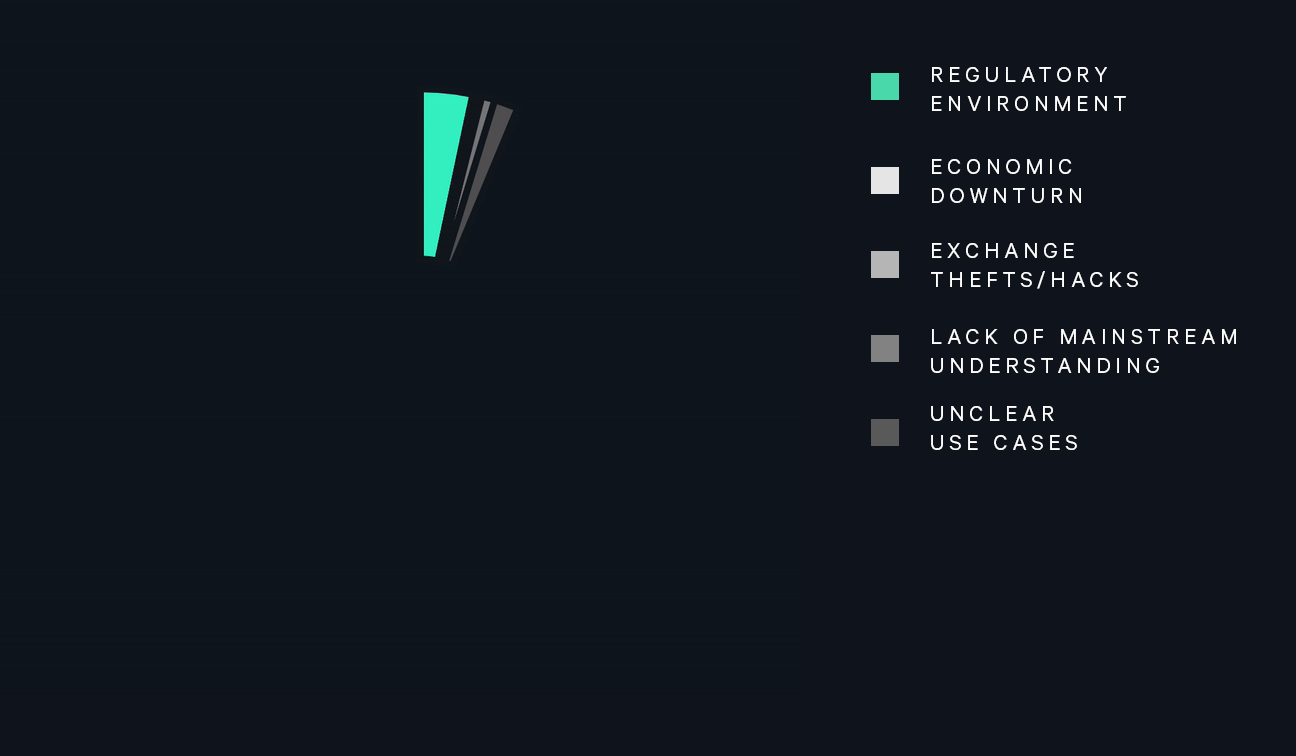 Information taken from DCG's 2019 Annual Survey.
Progress on the regulatory front varies widely by country. France has introduced a framework to recognize digital currency issuers and traders, and Canada has also proposed rules to govern the industry. Meanwhile, India's government has introduced draconian legislation that has effectively banned digital currencies in the country. In the U.S., the SEC issued guidance on securities classifications for token issuers, but this hasn't been viewed as particularly helpful to those in the space, and further clarity is needed from U.S. legislators and regulators.
Information taken from DCG's 2019 Annual Survey.
Information taken from DCG's 2019 Annual Survey.
Michael Sonnenshein, Managing Director of Grayscale Investments
Information taken from DCG's 2019 Annual Survey.
Information taken from DCG's 2019 Annual Survey.